Get air quality data to multiple devices at once
Suitable for office, home, gym, greenhouse gardening and other indoor places with wide range of applications.

Compact in size, beautiful in appearance, lightweight and portable, easy to take out and carry around.
Quick & easy set up. No need for a wifi, gateway or cloud
Access air quality measurement history in the HibouAir analytics app, and gain insight to live a healthy life for you and your loved ones everyday.
Store up to
7 days

of air quality history for review. Can be accessed from mobile or dasktop application.
Get real-time environmental data on your desktop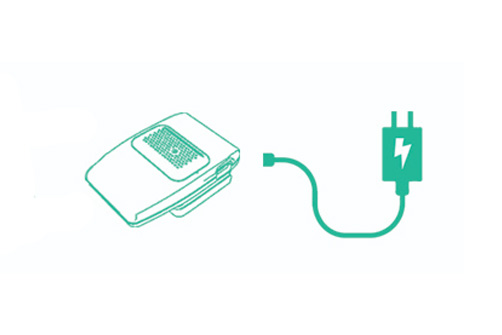 Connect
HibouAir to a power source
Connect the HibouAir sensor to a power source and get close to the device.


Connect
HibouAir USB dongle to your computer
USB port can be found on the front, back, or side of the computer (the location may vary depending on whether its a desktop or a laptop).
Run
the HibouAir desktop application
Open the HibouAir desktop application that you have downloaded earlier and click connect.

Access
real-time environmental data
Real-time air quality data of your surrounding environment will be shown on your desktop. The data will be updated every 30 seconds.
Your comfort and health depends on your indoor environment
We live in a world where pollution is on the rise. Because of the coronavirus pandemic, people are spending more time at home, therefore, it is essential to take steps to protect our health. Having an indoor air quality monitor is one of the best ways to know how healthy the air we are inhaling is.
The first step towards improving air quality is to measure it accurately and monitor it on-site or even remotely. To address such needs, Smart Sensor Devices offer affordable air quality monitoring devices called HibouAir with a simple setup that provides real-time air quality data of the surroundings. This home air quality monitor provides not only the concentration of different elements in the air such as CO2 or PM and volatile organic compounds (VOC) but also the other parameters such as humidity, temperature, atmospheric pressure & light level that affect the ambient environment around us.
HibouAir - Complete Air Quality Monitoring Solutions
Work in a healthy environment
Know if your indoor environment is healthy or not with a single glance at Best smart air quality monitor HibouAir analytics app. Measure the key parameters of your indoor environment, receive alerts when there's changes.
Wireless

Bluetooth connected device allows you get real time air quality data with the HibouAir analytics app.

Energy Efficient

HibouAir is a system based on eco-friendly casing and low energy components.

Easy Control

A simple app alerts you when AQI are not within range at your premisis.
Simple Setup

Easy Plug-and-play setup to get going with the HibouAir.

Highly Compatible

HibouAir offers you both Standard Air Quality Index (AQI), Particulate matter PM.10, PM2.5 and PM1.0 or CO2. Also temperature, Humidity and ambient pressure.

Superior Design

We put effort in creating a nice and user friendly design.
Customer Reviews
Dr. Vikas Gupta, PhD
Senior Clinical Scientist, Philips Innovation Hub
@ Karolinska University Hospital, Stockholm
I compared various air sensors online before deciding to try HibouAir.This small and affordable device requires simple setup but provides relevant data in real time for timely intervention, if required.The apps on both the desktop ( I tested the Mac OS app) and mobile (android) worked well and showed the parameters using a clean design and intuitive interface.I would highly recommend it for indoor air quality monitoring.
Read more
Explore our air quality monitoring solutions for business
Contact Us
Call us or simply fill out the form below, and one of our representatives will get back to you as soon as possible.